6 Tips for Color Matching Thread to Fabric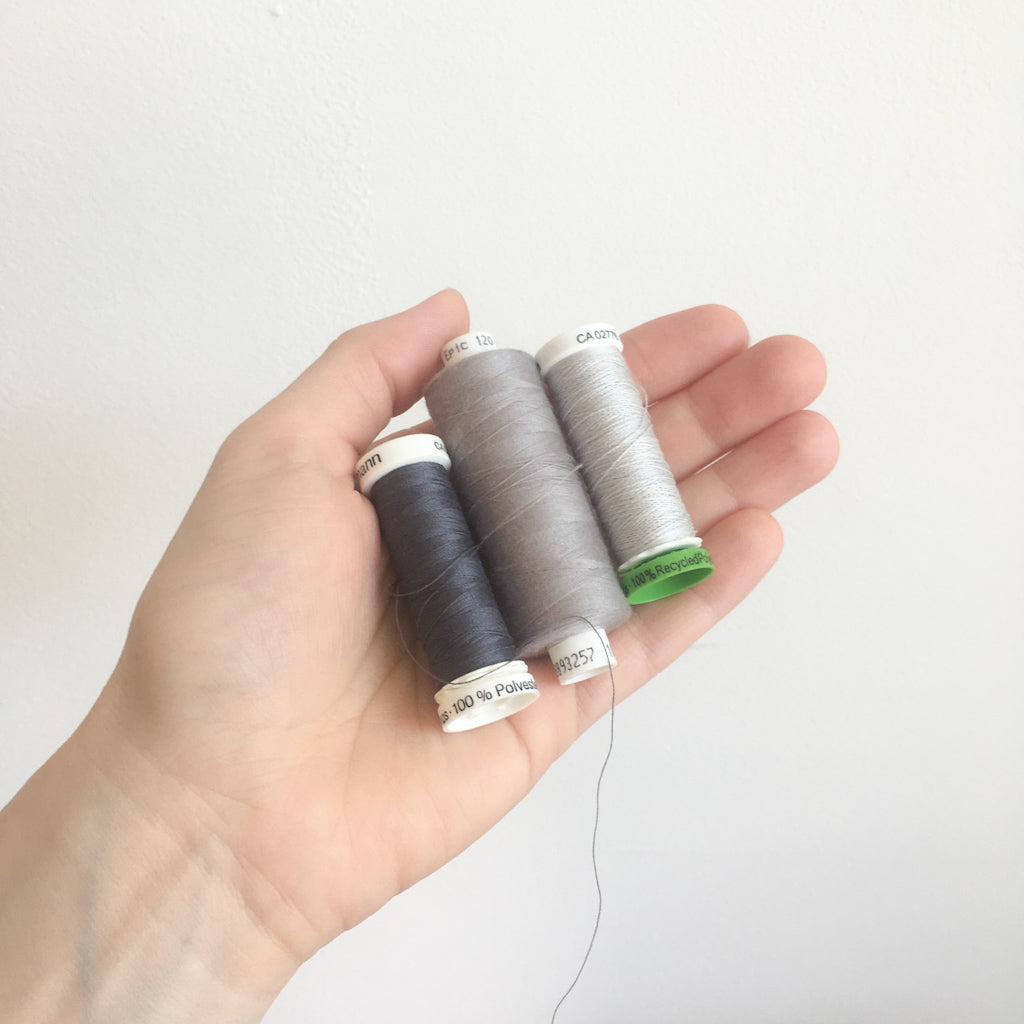 If you just started sewing you might wonder...How do you match thread to the fabric? Do I need to buy a matching colour for every sewing project? Because it can be hard to perfectly match your sewing thread to your fabric. Luckily, in many cases you don't have to exactly match the colour of the thread to the fabric. 
I recently had an interesting conversation on Etsy about how to pick colors to match the fabric of your sewing project.There is always some experimentation involved, but here are a few tips I've picked up during my sewing journey.
Can't buy your thread locally and do you have to shop online? Buy a range of grey (light, medium, dark) and neutrals like beige, off-white, navy, black,etc. they blend in to many more fabrics than you'd think! If you end up using up one color faster than other colors, you can buy a bigger spool and save some money in the long run. This works for serger cones too!

But do make an informed choice. So look into your wardrobe (if you sew clothes for yourself) and look at your favorite colors. Are they dark, light, bright, muted? For example: If you don't have anything white or black in your wardrobe you are probably not going to sew with them much.

You can use them as a construction thread (to sew side seam) and in many cases for topstichting too especially on patterned fabrics. I find the colour of the thread is often most notable for buttonholes so you can do a test buttonhole to see if you think it's a good enough match.


Go for a thread that's a shade darker than your fabric, these tend to blend in better than lighter options.


Take a small fabric swatch when you go shopping for threads. I used to stuff a few fabric swatches into the little pocket in the back of my planner so I would have them with me if I went shopping for thread, other fabrics or notions.


If you have a few options in your thread stash, first pull some thread from the spool and lay it over the fabric, squint to see which on blends in best. When in doubt sew a line of stitches of each option so you can compare them.
Go for contrasting top stitching. This can work, but every wobble in your stitching will stand out.


For patterned fabrics pick a colour closest to the colour that stands out most or is the background colour. Often grey will work too. 
And remember that with most sewing projects your are moving around and people won't even notice if the match isn't perfect. ;)
A few examples
In the images below you can see that even though a spool of thread sometimes looks quite different from the fabric once you pull out a length of thread some magically disappear. So always try a few threads even if they look like they don't match while still on the spool.
Here are a few examples from my own sewing. They are not the most extreme examples, but it does show the match doesn't have to be perfect.
The blue fabric is made from white and blue threads, so which do you pick? I went with a grey colored thread which blends in really well.
For the patterned fabric I picked pink which doesn't match the dominant offwhite base, but I like how they look together. 
For the top stitching in this one I didn't really have a thread that perfectly matched any of the colors so so I picked a muted and darker red. You can see it's different up close, but when I wear it I don't notice it at all.
Next time you are sewing and don't have a perfect match at hand, I hope you'll try a few colors that, at first, don't seem like a perfect match.
Do you do this too? Do you have any additional tips? Let me know in the comments.